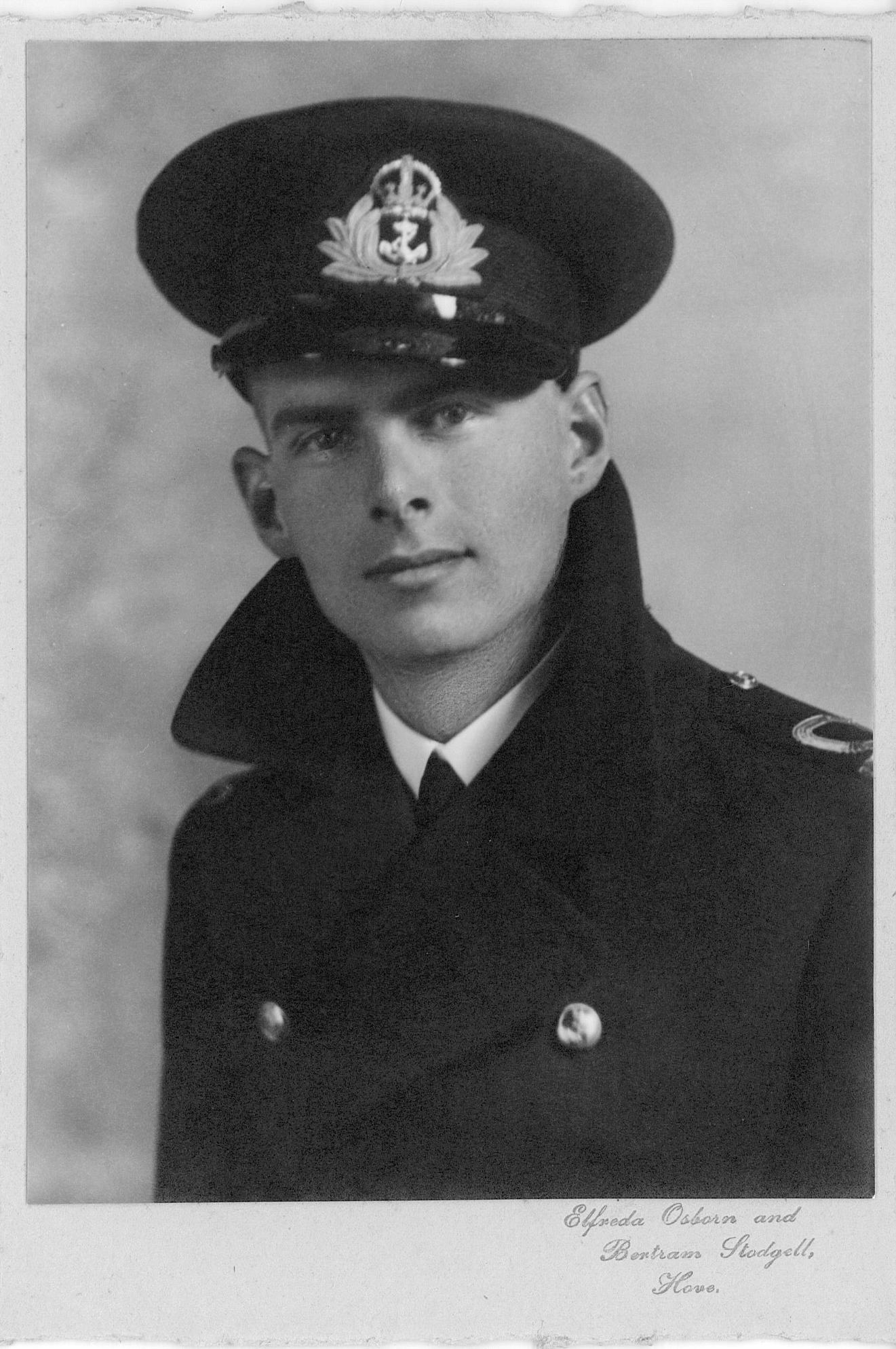 Oct 1917- July 2000
Born in Hitchin, Hertfordshire on October 2nd 1917 he was named Gilbert Percy Hedges. He was called Gilly in England but the name was shortened to Gil when he emigrated to New Zealand in 1966
He and Margaret married on 12 November 1941 whilst he was on shore leave. They did not have time to get the banns read and had to apply for exemption.
He left the Navy after the war and became a teacher. He returned to the navy retiring in 1958
He won The Gold Cup about 1956 or so. I donít know much about it but it was celebrated as a significant achievement.
The inscription reads:
The Royal Yacht Squadron
Challenge Cup Presented
(1945or 1949)
Then Below it reads:
The Association of Service Yacht Clubs
It appears to have been fought between the Armed services.
Feel free to use these photos for private use or study but please contact me before publishing them.
HOME THOUGHTS FROM ABROAD.
The Engines throb in the warm, still night
And the cloud-ridden moon sheds an eerie light,
The Watch keeping Officer stares ahead
And sips his tea with a heart of lead
He wants to return to those laid up yachts
That he dreams about in the Middle Watch

He wants to recall those far off days
When the deadliest thing in the Thames was a haze
Filled with a P&O Linerís bray,
ĎCos you hadnít the breeze to get out of the wa
When a gun meant you'd got five minutes to g
And not that a bomber was coming in low.

He wants to leave those tropical seas
And return to an English Souí West breeze,
To return to the place heís known before,
For a trip down Swin, or through the Gore -
To start on the top o' the tide at Leigh,
And anchor at Bradd'll or "Brittlesea"

He longs for the crunch of the lee bow wave,
For the quiver and plunge of a .yacht, his slave,
To feel the pull of his Genoa Jib,
Hear the creaking groan of a working rib
Not the throbbing thrust of a metal screw
worked by a sweltering, engine room crew.


Ships served on During WW2
| | | | |
| --- | --- | --- | --- |
| From | To | Ship | Rank |
| 26 May | 16 June 1940 | HMS Pembroke | Sub Lieutenant RNVR |
| June 1940 | | HMS Edinburgh Castle | Temporary Sub Lieutenant. RNVR |
| Feb 1941 | April 1943 | HMS Asphodel | Sub Lieitenant & Lieutenant |
| May 1943 | Sept 1943 | HMS Dittany | Lieutenant (?) |
| 8 Sept 1943 | 15 Sept 1943 | HMS Pembroke | Temporary Sub Lieutenant. RNVR |
| Nov 1943 | 8 March 1945 | HMS Berkley Castle | Temporary Lieut. |
| Teaching civilian street | | | |
| 9 Sept 1953 | 14 Dec 1955 | HMS Gamecock | Instructor Lieutenant |
| Jan 1956 | 24 July 1958 | HMS Raleigh | Instructor Lieutenant then Instructor Lieutenant Commander |
| | | | |